Diamond Pearl Earrings
Exquisite zircon earrings with diamonds and pearls
Copper plated genuine gold 3A zircon S925 silver needle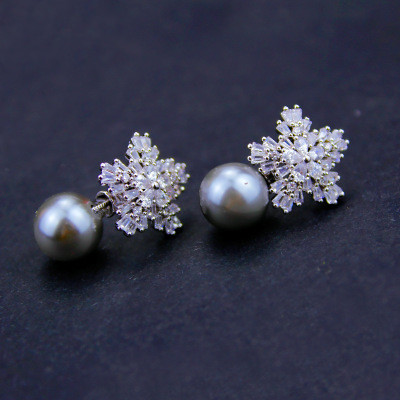 Introducing our latest addition – Pearl Earrings with a stunning zircon flower and real pearl on the bottom. These pearl earrings stud are available in three beautiful colors – gray, white, and red pearl. The zircon flower looks like a diamond, adding a touch of luxury to your outfit.
These small pearl earrings are the perfect size for any occasion. They are stylish, elegant, and add sophistication to any look. The beautiful combination of pearls and zircon flowers makes them a unique and special accessory that you will treasure for years to come.
Whether you're dressing up for a special event or looking to add some glamour to your everyday wear, these Diamond Pearl Earrings are a perfect choice. They make a perfect gift for someone special or a treat for yourself. Shop now and experience the luxury and elegance of our stunning Pearl Earrings with zircon flowers.
Pearl earrings are an important addition to any jewelry collection. One of the most significant benefits of pearl earrings is their natural beauty. Each pearl is unique and has its own luster and shine, making them a treasured and special accessory.
Additionally, pearl earrings, a classic piece of jewelry that never goes out of style, have maintained their popularity for centuries. Investing in a pair of pearl earrings proves to be an excellent choice for any fashion-conscious individual. These timeless accessories will always remain in style and can be passed down through generations.